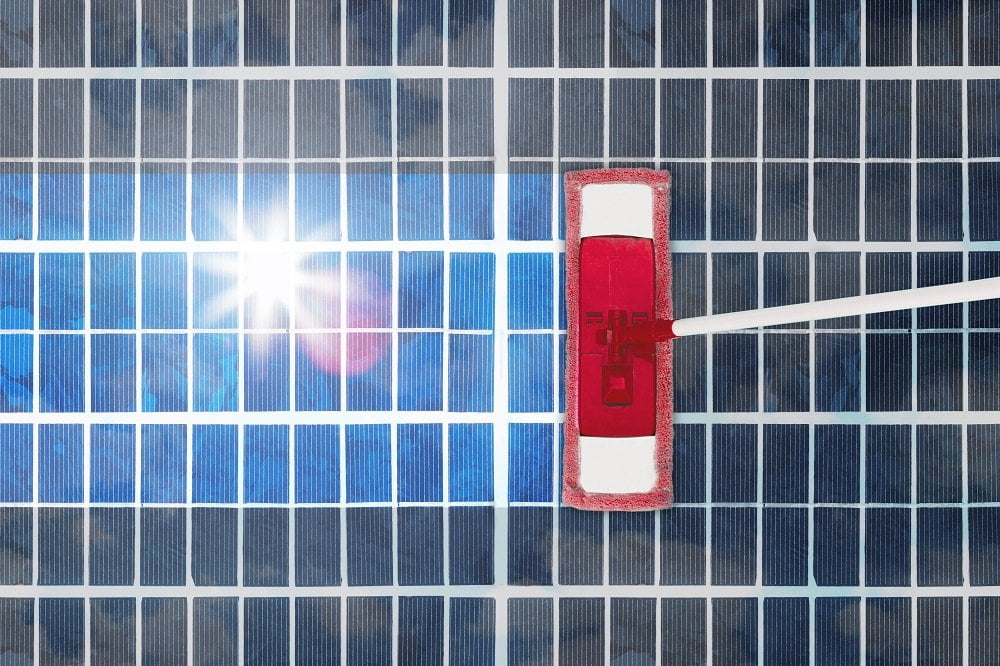 Exceptional Solar Panel Cleaning Brisbane
When was the last time you had your solar panels professionally cleaned? Solar panels are a substantial but very worthwhile expense, one which can give excellent returns, but did you know that dirty panels can fall as much as 25% efficiency if not correctly cleaned and maintained? That's where our cost-effective solar panel cleaning service for Brisbane homes and businesses can benefit you.
Dirty solar panels reduce your sun absorption, thereby impacting your electricity bill and the system's efficiency.
Urban pollution, tree sap, lichen, bird droppings, being close to busy freeways and roads, and even rainwater can head to a build-up of debris. Cleaning with harsh chemicals can add to this dilemma by leaving a viscous residue. You won't have that problem when picking Wishy Washy Windows to clean the solar panels on your home or business.
Cleaning Solar Panels On The Roof
Our certified and advanced solar panel cleaning water system is perfect for guaranteeing a spotless finish. Because the method leaves no sticky residue linked with chemical cleaning, the solar panels stay cleaner for longer without drawing dirt.
We'd love the opportunity to work with you and show why our exceptional solar panel cleaning service sets us apart from the remainder of the field. Our cleaning tools and soft-bristle brushes displace debris or dirt before each panel is flushed twice with pure water and left to dry freely. And while we're cleaning your solar panels, why not have your windows cleaned as well? Ask us to add window cleaning to your quote.
If you prefer to have your solar panel cleaned now, Wishy Washy Windows is continuously within your reach. Contact us directly and experience professional solar panel cleaning services in Brisbane.
Solar Panel Cleaning Prices
We offer the best prices, costs and quotes in Brisbane. Our companies core values state that we are to supply the best quality washing services around and at the most affordable prices.
Some Of Our Solar Panel Maintenance Services Include;
Residential Solar Panel Cleaning
We specialise in expert chemical-free solar panel cleaning in residential, commercial and rural regions.
Commercial Solar Panel Cleaning
We are the specialists in South East Queensland at cleaning commercial systems of any dimension or quantity!
Your Local Solar Panel Cleaner Company
Dirty solar panels can negatively affect your solar system performance, and yearly rainfall is really not enough to wash away pollen, mould and stubborn dirt that forms up over the months and years. Water does not mix with oil, right. If you live in a built-up, such as Brisbane's northside, you have vehicle pollutants settling on your panels every day.
At Wishy Washy Windows, we provide professional solar cleaning services to help maintain your solar panels in top working shape. We use de-ionisation equipment to make sure that all dissolved masses are extracted without leaving streaks or spots.
Solar panel manufacturers suggest that panels be examined and cleaned regularly to ensure that they run and produce a total capacity. Not looking after your panels can end in voiding the manufacturer's warranty. Using a professional solar cleaning service will help enhance your energy production, which in turn raises the amount of money you can save on your electricity bill.
Do solar panels need to be cleaned?
Your solar panels need to be opened to sunlight as much as possible to produce maximum power. Solar panels should be cleaned at least once a year to reap the full benefits of having a clean solar system. Also, depending on what type of property you have, exposure to pollution and contaminants and where you live can even increase the number of times you should have them services by a maintenance business.
Does cleaning your solar panels make a difference?
Yes, it increases the sunlight exposure, therefore increasing energy output and helping you to lower electricity bills and prolong usage of power so that it lasts longer. It makes common sense to have them serviced by professionals. The money you spend on cleaning them will be offset by the savings on your bill each year.
Can you use a pressure washer to clean solar panels?
If you are going to clean your solar panels DIY, use water, a gentle cleanser like dishwashing detergent and a soft brush to get the build-up out of the recesses. Evade harsh chemicals, rough scrubbers and pressure washers, which could degrade your solar panels.
How often should solar panels be serviced or cleaned?
At least once a year
This gives you peace of mind and a cleaner energy bill as well.
Do dirty solar panels generate electricity?
How much energy are you losing with Dirty Panels? Anything that gets between your solar panels and the sun will have a bearing on how much electricity the system produces.
How do you remove water stains from solar panels?
The use of coarse powders also jeopardises scratching the panels. Given the variety of good quality solar panel glass, clean water and a little scrubbing with a cloth-covered sponge or soft brush should eliminate the most stubborn grime. You can also hire our services to get them professionally cleaned in the northside Brisbane areas.