5 Star Window Cleaner Services
Residential, Commercial & Industrial Window Washing Business
Need an obligation free quote?

---



5 Star Reviews From Google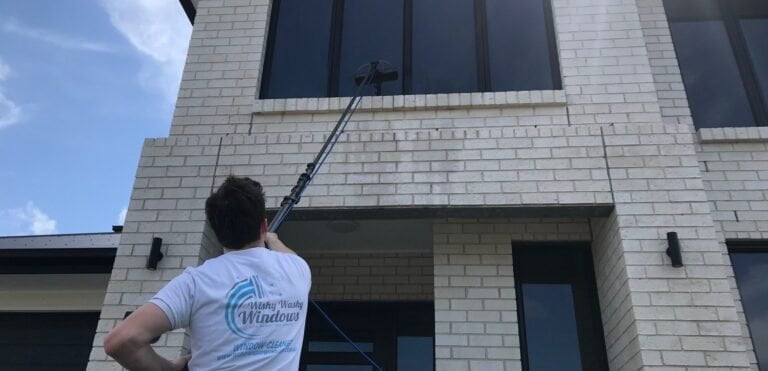 Professional Window Cleaners You Can Trust To Do The Job Right
At Wishy Washy Windows, we are a family business who has experience working for major clients around Brisbane giving you confidence in our pricing and quality. All of our workers are professional trained. Therefore, you can have the confidence that your windows will be cleaned professionally.
Have a single storey unit, house, flat, townhouse etc? We are specialist at cleaning your house no matter how small or how big.
Have a shopfront or business that needs cleaning? We regularly clean shopfronts weekly, bi weekly or even monthly.
Have an office building, warehouse or factory complex that needs window cleaning? Give us a call and we will get back to you promptly?
Why Choose Wishy Washy Windows For Your Window Cleaning In Brisbane?
We enjoy the challenged of taking dirty windows and turning them into fresh, clean beautiful ones. For instance many of our clients comment on their joy of looking out a beautiful cleaned window.
We pride ourselves on honest and good communication.
We are fully insured giving you that peace of mind.
Call Us Today
For a free competive quote and pricing on your next residential, commercial or industrial project

We are specialists in cleaning your windows. We clean normal residential windows, shopfront windows or even construction cleaning.

Getting dirty window tracks? We use Eco-Friendly products to give them the clean they deserve

Need a few bits and pieces cleaned around the house? We're happy to help out where we can

We use the latest technology including hi-tech water fed systems for those out of reach jobs.

We have completed work for major business but also small home owners. So rest assured we will give you great pricing and quality results.

Have solar panels that need cleaned? Thats no problems! We have poles and equipment to reach all those tight places.
Why Our Window Cleaners Are The Best In Brisbane
Your local window cleaning company advises on getting your windows washed for several reasons.
Property Hygiene. Your house or business requires regular cleaning. Dust, insects, mites can accumulate on your windows leading to potential diseases and allergy risks.
First Impressions Last. When you have family, friends, customers and clients arrive at your company or home, dirty windows are one of the first things they see.
Lower Lighting Costs. Properly cleaned windows provide more natural light into properties, reducing the number of times internal lights are used, potentially reducing electricity bills.

We take care of our client's houses/assets. We are fully insured and respect all property and items.

We pride ourselves on a good experience so if you want to discuss something about the job please let us know.

We have clients ranging from a few windows, pensioners to large scale buildings. We know how to quote!
FAQ
These are questions that our customers frequently ask while asking for a quote.
The process of our services can vary according to the project requirements. This can be based on several factors, including the number of windows, property type, interior and exterior window cleaning, if the property is one, two or three-story and other factors. Rest assured, though, we scale our quotes on what other local competitor companies are pricing to their clients and beat them with great prices.
We use only the best quality and sustainable window washing cleaners on all our jobs. Our products are commercial type and adhere to all Australian and local state standards. They also comply with environmental laws and are also allergen-free to help with hygiene issues.
We provide separate services for the cleaning of window screens in Brisbane. Our main priority is the windows, but dirty screens can hinder even the most sparkling projects, so they can defeat the purpose. Ask us about window screen cleaning when you chat with us for a quote.
It all depends on the location, time of year, type of property, number of windows and other factors. For homes and residential complexes, we recommend getting our services completed at least once every 2 months. For businesses, commercial and industrial properties, we recommend at least twice a month or even more frequently (weekly) as these types of properties tend to have more foot traffic and higher air pollution than homes and units and need higher first impressions for their customers.
Our services include the cleaning of windows and tracks in the interior. If you need windows screens cleaned as a separate service, we can do that too. We also leave the property as we found it, if not cleaner! We respect all property and leave the place clean.
Depending on the height of the windows, we can use ladders. If it's a two or three-story house or a block of offices, we can also use height adjustment tools such as extended poles to get to those elements of the house we need to clean. We are fully insured as well, so you have peace of mind.